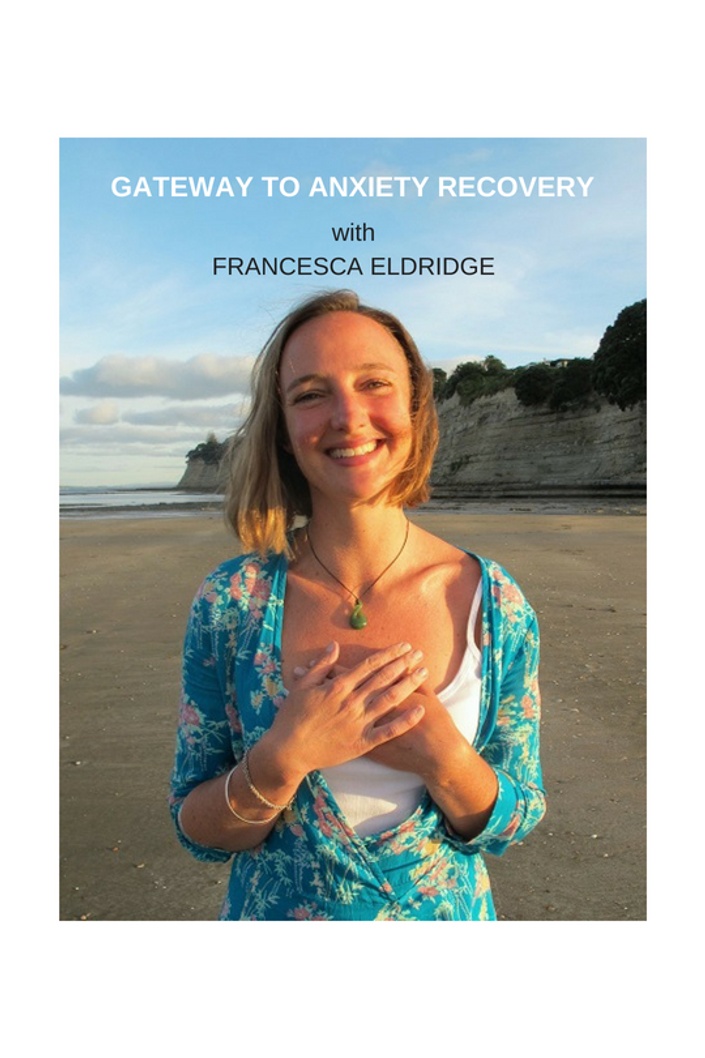 Gateway to Anxiety Recovery
Are you ready to get started on anxiety recovery and start living?
I'm ready for recovery
NEXT COURSE BEGINS SEPTEMBER 3, ENROLMENTS OPEN AUGUST 6
Are you sick of being sick with generalized anxiety, OCD, panic attacks, intrusive and distressing thoughts and images, or social anxiety?
Is anxiety impacting your ability to work, socialize, date, share a home and LIVE?

Are you looking for natural health support?

During the Gateway to Anxiety Recovery 8-week online course, you'll learn nutrition and lifestyle tools from a nutritionist with personal experience of severe anxiety and recovery - that's me, Francesca. Hey!
I'll help You learn how to start moving from surviving, to thriving.
With your commitment, by the end of this course you will...
-Have learned about nutrition specific to supporting mental health and reducing anxiety
-Be feeling calmer and noticing improvements in your mental and physical health
-Have audited your food pantry and learned about nourishing food choices + recipes
-Have learned which supplements are safe and actually work
-Have greater understanding of how your body works
-Have learned how stress contributes to anxiety + how to manage stress and enhance self care
-Have laid solid foundations for your mental and physical health
-Be on the road to recovery
The Gateway to Anxiety Recovery e-course offers you....

1) Eight weeks' support from a qualified nutritionist who has lived with and overcome an anxiety disorder. Unlike other courses, this course is not self-directed. I'm with you every week in our supportive, private Facebook group and you receive a one-to-one call with me. You won't have to go it alone.

2) Weekly discussion in our private, supportive group. Each week, I'll cover a different nutrition or lifestyle tool to support anxiety recovery in a Facebook LIVE. This will help you understand the health reasons behind the action you'll take that week and the beneficial results you will obtain.

3) One to two weekly videos up to 14 minutes long, covering different nutrition and lifestyle tools for anxiety recovery, to easily fit around your other commitments. The videos also help you get to know me and are helpful for those who prefer listening to reading.

4) Educational handouts on nutrition and lifestyle tools for you to download and keep every week. The handouts summarize key information from the videos to support your learning, and share extra tips and advice on reducing your anxiety.

5) Weekly challenges and actions to complete to keep you on track to your anxiety recovery - the transformation is in the action you take! Challenges will include auditing your pantry, increasing specific foods in your meals, focused care of specific body systems, and so much more.

6) FREE recipe e-book, Nourish Your Nerves. These 12 recipes, from breakfast to dessert, were crafted by me for people affected by stress and anxiety. Most recipes are gluten and dairy free, most recipes contain eggs or meat. All are delicious and simple to make!

7) A one-to-one deep dive online call with me, where you'll receive personalized guidance.

8) Lifetime access to your course content - you can revisit lessons, enhance your knowledge and stay on track with your recovery!

9) Bonus content: recommended inspirational and helpful books and films, and more.
Your Instructor
Hello!
I'm a registered clinical Nutritionist from New Zealand. I'll be teaching you all I've learned from my decades of experience with OCD, insomnia, excessive worry and lack of self kindness. And I'll be sharing with you the nutritional tools and self care tools that helped me recover and build my own mental, physical and emotional health.
Throughout the 8-week Gateway to Anxiety Recovery course, I'll be showing you how to courageously lay the foundations for your good mental and physical health, naturally. What you learn will serve you for life.
A little bit about me...beginner surfer, dog mama, real food lover and friendly introvert. I've been through some dark times and fought for my health and happiness with fervor. The fight has been worth it. Recovery IS possible.
See you on the road to recovery!
Frequently Asked Questions
Who is this course for?
This course is for you if you're suffering with GAD, OCD, panic attacks, social anxiety, and excessive worry and overthinking AND you are sick of being held back by anxiety and ready to start LIVING. This course if for you if you've been wanting to learn how to establish and strengthen the foundations of your mental and physical health with the guidance of a nutritionist. This course is for you if you're ready to begin creating a holistic mental health tool box that will serve you for the rest of your life!
I'm scared - freaking out, actually - about enrolling....
I hear you. When you've been sick for years, sometimes it's hard to believe good health really is possible. But these doubts could be the inner critic making noise and an anxious brain trying to keep you in a comfort zone that isn't really a comfort zone. It's time to embrace a new future. I'll be walking beside you, and we'll take it step by step. Once you start feeling better, you'll be so glad you took that first step toward your new future.
How long do I have access to the course?
How does lifetime access sound? After enrolling, you have unlimited access to this course for as long as you like - across any and all devices you own.
When does the course start and finish?
The next course starts June 27 and ends 8 weeks' later, on August 22.
Can I enrol in this course if I'm taking medications?
Yes, of course. Research has shown nutritional therapy works well alongside medications. Nutritional therapy can also help address deficiencies caused by some medications. Let me know if you are taking any medications and I will thoroughly check for any interactions, contraindications and nutrient depletions for you, and advise you accordingly. Your safety and wellbeing is always important to me.
What's your refund policy?
If for any reason you're not happy, let us know in the first 30 days of the course and you will receive a full refund.